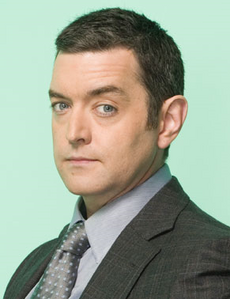 Fictional biography
Edit
Carlton Lassiter is a ten-year veteran of the Santa Barbara Police Department, and the youngest Head Detective ever named to the force. According to Lassiter's blog, which is written by actor Timothy Omundson, he was a close friend of the former Santa Barbara police chief, who led him to enroll in the police academy during a "dangerous point" in Lassiter's youth.
Upon his first appearance in the series pilot, Lassiter is said to be five months into a trial separation from his wife, Victoria, although he later, when drunk, confesses that they have in fact been separated for two years. Part of their marriage troubles appears to stem from a disagreement over the matter of children. Lassiter says his wife believes that he does not want children, although this is not the case. During the pilot, Lassiter is involved in a secret romance with his partner, Detective Lucinda Barry; however, soon after Shawn Spencer correctly determines the nature of their relationship, Barry is transferred and the affair appears to have ended. She is replaced by Junior Detective Juliet O'Hara.
Eventually, Lassiter's wife asks him to dinner, something he thinks points to a reconciliation for them, but in truth she simply wants to give him divorce papers. Saddened but resigned, he signs them, telling her he's going to let go of the past and think of the future without her. She tells him she will never stop loving him, even though they are divorced.
It is revealed in Lassiter's blog that he has a sister, a missing brother who may or may not be in South America, a brother in law named Raul, a nephew named Peter, and an overbearing mother and grandmother.
Characterization
Edit
He generally distrusts Shawn and does not believe that he is psychic as he claims to be, but has come to have a grudging respect for his investigation skills, something he admits in one episode while drunk.
Notable Episodes
Edit
Community content is available under
CC-BY-SA
unless otherwise noted.